Events & Info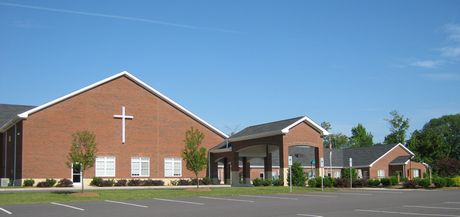 Upcoming Highlights Include:
Welcome Michael & Naomi Woo and Family 10/18/2020
Michael and Naomi Woo have a passion to see Jesus glorified in the most unreached parts of the world. They are candidate directors for OMF International. Their ministry is training and discipling a new generation of missionaries who have a heart to plant churches in Southeast Asia. As missionaries who have served overseas and now live in the US, they are uniquely equipped to mobilize and train new workers for the mission field.  
Don't Forget to Vote!
Cornerstone is hosting early voting here in Davie County.  The polls are open at the church 8am to 7:30pm Monday – Saturday from now until October 31st.  Now is the time to get out there and make your voice heard.
You Choose
You now have a choice of where you want to worship with us.
In your car – you are able to continue to worship from your car by listening to FM 100.1
In the FLC – you are welcome to come inside and worship as we sit in family groups while social distancing.
In a class room – we have four rooms that have speakers and would allow a family to isolate themselves and still enjoy the service.
So you see, you can choose what type of worship is best for you and your family.  There will be no nursery for the foreseeable future. 
Tailgate Chicken Stew
Next Sunday, October 18th let's celebrate Fall with a Tailgate Chicken Stew in the parking lot. The men are making Chicken Stew but you will need to bring your own bowls, crackers and anything else you would like with it.  We will each fix our own tailgate meal after worship, add chicken stew and enjoy fellowship while maintaining our social distancing practices.  If the weather turns bad, bring containers and take chicken stew home with you. Either way, CHICKEN STEW NEXT WEEK FOR LUNCH!
Attention Young Adults
Join the group on the lawn with your chicken stew on Sunday and fellowship with other young adult believers. Cornerstone Young Adults usually meet the third Tuesday of each month at 7pm.  Text or call Ashley Melton for events and reminders at 336-414-5963
Alpha Omega Corn Maze – October 17 –12 –4pm
You name it; Alpha-Omega has it! Besides the 5 acre corn maze there is a 3 acre hay bale maze, a giant bounce pillow, a corn box big enough to play in, a tractor drawn train ride and a horse drawn hayride; not to mention a pipe world and a cannonball pipe slide. It's enough to make for an A-Maze-ing family outing with many photo ops.  We will meet at Alpha Omega at 12noon and go in as a group to get the group rate.  The cost is $9 per person for a group of 20 or more.  We can buy a hotdog lunch for an additional $4 per person. Don't miss this FUN FILLED day!
Mid-Week Bible Study
We are continuing our mid-week Bible Study for adults from 6:30 to 7:30pm via Zoom as well as in person at Cornerstone. Pastor Kevin will lead us through scripture to navigate the craziness of these days.  Join us for this in-depth study and discussion. (Meeting ID: 821 7431 0191, Passcode: 193785) Please note that Zoom now requires a passcode on all meetings.
Open Basketball
Beginning Monday, October 26st from 7-9pm there will be open basketball for middle school and up in the FLC.   Come and get some exercise or just cheer the player on!
Beth Moore Bible Study
Linda Stockner is facilitating a Beth Moore Bible study "Breaking Free" for men and women each Thursday at 6pm at Cornerstone in the Youth Room. If you are interested in joining this group, please call Linda at 803-665-7108.
Pre-Service Prayer 
Join the prayer team in the the FLC from 9:15 to 9:45 each Sunday for a time of prayer.  They are lifting up our services, our pastor, our worship team and our congregation. If you need prayer for you or your family, please feel free to join them or please forward any special prayer request to Betty Krottnaurer.
A Storehouse for Jesus  needs for October include: Corn Bred or Muffins Mixes, Miscellaneous cleaning products (Bleach, window cleaner, cleanser, cleaning solutions, toilet bowl cleaner sponges)  Place your donations in the labeled bin next to the Lost and Found.  Due to covid and an lack of volunteers Storehouse is unable to take clothing or household items at this time.
Love in a Shoebox
The youth will be filling Shoeboxes again this year for Operation Christmas Child.  We will begin collecting items next Sunday, October 4th through Sunday, November 1st.
This Week                                     Next Week
Hygiene

Washcloths
Tooth Brush
Comb
Hair Brush
Band-Aids
Fingernail Clippers
Mild Bar Soap

Wearable Items

Socks
Hat, Scarf
Hair Clips/ Bows
Head Bands
Mittens
Flip-flops
Sunglasses
Join in the fun of filling hearts and Shoeboxes with love.
Pray for the Shan Dia /Tia
October is pray for the Shan Dai/Tai month.  Sign up for one of the following:
www.Facebook.com/Pray4ShanTai 
SUNDAY SCHOOL – Where Faith & Life Connect
Join us for Sunday School at 9am offering the following classes:
For Adult
Theology Class (Room 102) Answering the hard questions from a Biblical perspective.
Get Connected – (Room 108) Looking at life issues from a Biblical perspective.
Men's Bible Study – (Room 113) The "Red" Words – A compilations of the Words of Jesus
Soul Sisters – (Room 120) Women's Support Group
For Youth – Middle School & High School In the Noiz Youth room #122
For Children – Grades K to 5th Resuming their journey through the Bible with the New Testament in room #109
This is an opportunity to get connected and grow in your walk with the Lord.  (No nursery for the foreseeable future.)
Youth Need Snacks
Our Youth are meeting together on Wednesdays at 6:30pm and need healthy snacks. Please sign up online at TakeThemAMeal.com – Last Name – Youth, Password – 0600 for a time you can help with this ministry. Thank you in advance for supporting our youth in this way.
Monthly Mission Moment – Charlie & Vickie Brent and Family
Charlie and Vickie train students from sensitive locations at Texas A&M to serve as evangelist and disciples in their home countries and other countries where there is increased hostility to the church and imprisonment of pastors.  Cornerstone supports this Brent Family through prayer, and monthly support
Offering Options
Mail-In –  For your convenience, feel free to mail your offerings to:
Cornerstone Christian Church
Attn: Garnette
1585 NC Hwy 801 N
Mocksville, NC 27028
Drive-In – You will still be able to drive under the carport and drop off your offering.
Carry-In – There will be an offering drop box available between the double doors going into the FLC.