Events & Info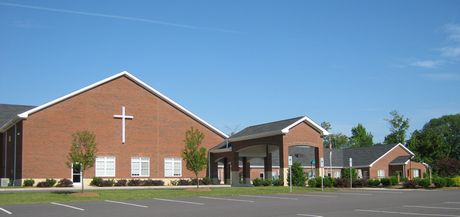 Events Calendar – January 2021
Upcoming Highlights Include:
You Choose
You now have a choice of where you want to worship with us.
In your car – you are able to continue to worship from your car by listening to FM 100.1
In the FLC – you are welcome to come inside and worship as we sit in family groups while social distancing.
In a class room – we have four rooms that have speakers and would allow a family to isolate themselves and still enjoy the service.
So you see, you can choose what type of worship is best for you and your family.  There will be no nursery for the foreseeable future. 
Mid-Week Bible Study 
We will continue our mid-week Bible Study for adults from 6:30 to 7:30pm via Zoom.  Pastor Kevin will lead us through scripture to navigate the craziness of these days.  Join us for this in-depth study and discussion.  (Meeting ID: 859 6052 6480, Passcode: 156703). 
Foundation of Faith  
Attention all young people.  The "Foundation of Faith" class is a 12 week practical study of the basic understandings of what it means to be a disciple/follower of Jesus, not simply to make a decision for Christ. If you are ready to be equipped as a spiritual warrior who is able deal with the challenges to life and faith, you will want to join this class.  We are meeting mostly on Sunday afternoons through March 21 from 1–3pm.  Please let Mary Clapp (336-998-0600, cornerstone@c3davie.org) know if you plan to join this class.
Cornerstone 101 Class Forming!
If you are new to Cornerstone or want to know more about us, then Cornerstone 101 is for you!  The class is a very informal time of discovery and discussion.  We are meeting five Sunday mornings (February 7 – March 7) from 9 – 9:50am in the Room #114.  While this orientation is required for those wishing to become members, there is no obligation to join by attending the class. If you or someone you know would benefit from spending time answering the question "Why are we here?" then bring your Bible and join us!  Contact Mary at 336-998-0600 for more information!
Open Basketball
Mondays  from 7-9pm there will be open basketball for middle school and up in the FLC.   Come and get some exercise or just cheer the player on!
Remain Diligent
With the increase of Covid19 in Davie County and all around us, we must remain diligent to protect ourselves and others.  Therefore please:
Wear your mask when entering and leaving the building
Practice social distancing
Wash your hands often
If each one will do their part, we will all be protected.
Young Adults Bible Study
Join us Tuesday, January 19th at 7pm for an in-depth study of the book of Philippians with Dr. Chris Miles.  Don't forget to invite a friend.
He Brews Coffee Bar
The youth have reopening their coffee bar Sundays at 8:30am.  Come early, get your coffee and support our youth.
Handicap Parking
For those who have a hard time walking the distance from the parking lot to the front doors, we have handicap parking available behind the building with easy access into the FLC.
 January Mission Highlight – Rosebud Indian Reservation, SD
The Rosebud Indian Reservation is in one of the poorest counties in the United States.  More than 46% of the  reservation's children live below the poverty line.  In order to survive, extended families pool their meager resources together to try and provide for their basic needs.  Harsh weather, remoteness, chronic lack of economic opportunities and resources combine to creat deplorable living conditions.  We have connected with several churches and outreaches in this community and annually send a team to help with the "Feast for the Nation" and to reach out to the missionaries that live there.  If you would like to join this missionary team, please speak to Chuck Bradford.
Children's Ministry Volunteers
Mark your calendars for Sunday January 31st; right after worship we will have a very SHORT Children's Ministry Volunteer meeting.  We will be meeting in the children's church room.  If you have a desire to serve in kids' ministry in children's church, nursery, teaching on Wednesday nights, teaching Sunday school, or you currently work in children's ministry, please plan on attending this meeting.
A Storehouse for Jesus  needs for January include: Dried pintos, Rice (1 and 2-pound bags) Baby hygiene (especially large size diapers and pull-ups, wipes). Place your donations in the labeled bin next to the Lost and Found.  Due to covid and a lack of volunteers Storehouse is unable to take clothing or household items at this time.
SUNDAY SCHOOL – Where Faith & Life Connect
Join us for Sunday School at 9am offering the following classes:
For Adult
Theology Class (Room 102) Answering the hard questions from a Biblical perspective.
Get Connected – (Room 108) Looking at life issues from a Biblical perspective.
Men's Bible Study – (Room 113) The "Red" Words – A compilations of the Words of Jesus
Soul Sisters – (Room 120) Women's Support Group
For Youth – Middle School & High School In the Noiz Youth room #122
For Children – Grades K to 5th Resuming their journey through the Bible with the New Testament in room #109
This is an opportunity to get connected and grow in your walk with the Lord.  (No nursery for the foreseeable future.)
Youth Need Snacks
Our Youth are meeting together on Wednesdays at 6:30pm and need healthy snacks. Please sign up online at TakeThemAMeal.com – Last Name – Youth, Password – 0600 for a time you can help with this ministry. Thank you in advance for supporting our youth in this way.
Offering Options
Mail-In –  For your convenience, feel free to mail your offerings to:
Cornerstone Christian Church
Attn: Garnette
1585 NC Hwy 801 N
Mocksville, NC 27028
Drive-In – You will still be able to drive under the carport and drop off your offering.
Carry-In – There will be an offering drop box available between the double doors going into the FLC.