Events & Info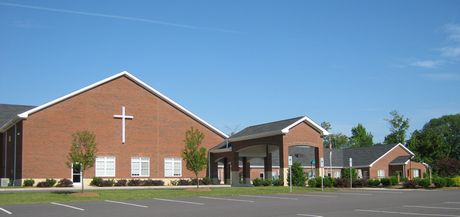 Upcoming Highlights Include:
Celebrate Jesus
Palm Sunday, April 2nd is a celebration of Jesus' triumphal entry into Jerusalem. We will have palm leaves to help us remember and to use in worshiping God on that day. Wednesday, April 5th at 6:30pm is a Seder Potluck. This is your opportunity to experience a seder.  Please bring a dish or two to share. Drinks and place setting will be provided.   Good Friday, April 7th at 7pm we will join with Farmington Methodist Church for the Farmington Cross Walk. We will meet in the cemetery behind Farmington UMC and walk as a group from one place to another with four stops for reading, singing, and reflecting on Jesus' walk to the cross. And then it is Resurrection Day!! We will begin Sunday, April 9th with coffee and bagels at 9am. We will have a time of fellowship during the Sunday school hour and then prepare for morning Worship at 10am. Come join us as we celebrate the resurrection of our Lord, Jesus Christ. There will be no Sunday school or Kid's Church on Resurrection Sunday.
Mid-Week Bible Study
Mid-Week Bible Study for adults Wednesdays, from 6:30 to 7:30pm.  A Zoom option is also available for those who wish to join us from home.  We will continue our discussion of the power of prayer and fasting.  Join us as we prepare for and study what Christ did for us through His death and resurrection.
Resurrection Day Choir
Let us lift up one voice of Praise and Adoration to our Risen King this Resurrection Sunday, April 9. To celebrate the goodness of our God, Cornerstone will have a Resurrection Day Choir. All are welcome to join, the only requirement is a joyful heart and excitement to worship the Lord. We will have one mandatory rehearsal on Tuesday, April 4 at 7PM in the Family Life Center. To sign up, email Elizabeth Trogdon at etrogdon@gmail.com or sign up in the Lobby by Sunday, April 2.  
Men's Fellowship Breakfast
Next Sunday April 2nd all men are invited to join us for a Men's Fellowship breakfast of biscuits & coffee at 7:30am in the Children's Church Room #101 which will include a short devotional focused on Godly men. Donations to help with the biscuits are appreciated. Men are encouraged to bring their sons and other young men to join us. Come and get to know your brothers in Christ and be blessed! We will have a special guest speaker, Kalim Andraos.
Azania Children's Choir
We are hosting the Azania Children's Choir April 18th through the 24th.  They will be performing Saturday, April 22nd at 5pm and sharing testimony on Sunday, April 23rd.  Invite your family and friends to share in these wonderful times of scintillating drumbeats, engaging dance moves, exciting audio-visual effects, and inspirational true-life stories of triumph over tragedy.
He Brews Coffee Bar
The youth are opening their coffee bar Sundays at 8:30am. Come early, get your coffee, and support our youth
40 Days of Preparation
Join s for 40 days of scripture reading, reflection and prayer in preparation for what Christ Jesus did for us through His death and resurrection.  Each day we encourage you to read the scripture, meditate on it and pray through it thanking Jesus for His sacrifice.  See the bulletin above for this weeks scriptures.
New Canaan Society of Davie
All men are invited to come to the Davie County New Canaan Society meeting this Thursday at 7am at 801 Southern Kitchen.  This is a Christian fellowship for men where men share their personal testimony and prayer.   For more information, see Jay Abernethy.
Youth News – Noiz – Wednesdays – 6:30pm
Monthly Mission Moment – Michael & Naomi Woo
 Michael and Naomi Woo have a passion to see Jesus glorified in the most unreached parts of the world. They minister as mobilizers for OMF International. They are training and discipling a new generation of missionaries who have a heart to plant churches in Southeast Asia. As missionaries who have served overseas and now live in the US, they are uniquely equipped to mobilize and train new workers for the mission field. Michael and Naomi live Littleton, CO along with their six wonderful children and have assumed the roles of candidate directors.  Cornerstone supports the Woo family through prayer and monthly giving.
Open Basketball
Mondays from 7-9pm there is open basketball for middle school and up in the FLC.  Come and get some exercise or just cheer the players on!
A Storehouse for Jesus needs includes Cereal, Saltine Crackers, Canned Meat, Canned Fruit, Canned Soup. Other items needed:  Any kitchen, bath, baby items and clothing of all sizes.  Place your donations in the labeled bin next to the Lost and Found.  A Storehouse for Jesus is also in need of volunteers.  If you would like to be a part of this team, please contact them at 336-753-8081
SUNDAY SCHOOL – Where Faith & Life Connect
Join us for Sunday School at 9am offering the following classes:
For Adult
Theology Class (Room 102) Answering the hard questions from a Biblical perspective.
Get Connected – (Room 108) Looking at life issues from a Biblical perspective.
Men's Bible Study – (Room 113) The "Red" Words – A compilations of the Words of Jesus
Soul Sisters – (Room 120) Women's Support Group
For Youth – Middle School & High School In the Noiz Youth room #122
For Children – Grades K to 5th Resuming their journey through the Bible with the New Testament in room #109
Nursery available during Worship only (at 10am)
This is an opportunity to get connected and grow in your walk with the Lord. 
Offering Options
Mail-In –  For your convenience, feel free to mail your offerings to:
Cornerstone Christian Church
Attn: Garnette
1585 NC Hwy 801 N
Mocksville, NC 27028
Drive-In – You will still be able to drive under the carport and drop off your offering.
Carry-In – There will be an offering drop box available between the double doors going into the FLC.