Events & Info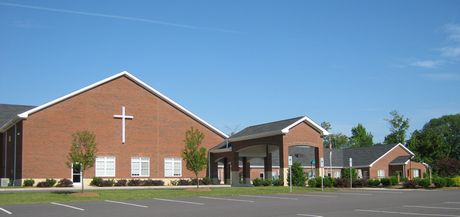 Event Calendar – November, 2019
Upcoming Highlights Include:
"Wonder Full" Wednesdays
Standing on the ROCK in the Storms of Life!
Wednesdays, we are learning about "Standing on the ROCK in the storms of life" through a Bible Study for adults from 6:30 to 7:30pm with Pastor Kevin.  There is King's Kids for children Pre-K to 5th grade who are learning about the names of Jesus and the nursery will be available upon request. Of course the youth are meeting also at their regular time from 6:30 to 8:30pm. Come and learn how to stand on the Rock with us!  Plan now to join us for a potluck on Wednesday, November 20th at 6pm for our last mid-week service until next year.
Chicken Pies
The SonShine Servants' deep dish chicken pies are now available for pickup. Ask any SonShine Servant and they can point you in the right direction.
Lunch & Learn Bible Study
Join us THIS Thursday, November 21st at 12noon to enjoy a light lunch prepared by someone in the group. Then Pastor Kevin will lead us as we feast again on the Word of God.
Open Basketball
Mondays 7-9pm there is open basketball for middle school and up in the FLC.   Come and get some exercise or just cheer the player on!
Church Council Meeting
Our annual Church Council meeting will be NEXT Sunday, November 17th at 10am.  We will meet at 9am and enjoy a time of fellowship with coffee and donuts (there will be no Sunday School).  Then at 10am we will have a time of singing followed by a time of sharing what we see God doing through this body of Christ.  The Church Council reports are available at the Communications Table at the back of the sanctuary.
The Turkeys are Coming!
Cornerstone will be providing Thanksgiving meals for ten families for A Storehouse for Jesus.  All the turkeys have been taken. Please return the items ASAP; but no later than Sunday, November 17th.
                                                                  Thank you, Your Local Mission Team
Multi-Cultural Thanksgiving
Sunday, November 24th we will join with Cordero de Dios and have our Annual Multi-Cultural Thanksgiving worship followed by a Thanksgiving potluck. Bring your favorite dish and dessert to share with your brothers and sisters in Christ. The men will be cooking some turkey and place setting will be provided. We would also love to bless The Cordero Food Pantry! Please bring non- perishable food items to donate to this ministry.
Thanks be to God for his indescribable Gift! (2 Corinthians 9:15)
Christmas Across America
An Ultimate Christmas party to celebrate one of the most amazing events in all of history—the birth of Jesus! Children across America are having a blast at these fun-filled celebrations with games, songs, treats, and a Bible story. Join us on Saturday, December 14th, from 1-3pm. There is no charge to be a part of this event. It's our gift to you and your children. Bring your kids to an Ultimate Christmas Party – they'll have the time of their lives! See Karen Harrison for details.  If you would like to help with this party, there is training available NEXT Saturday, November 16th at Western Avenue Baptist Church (1206 Museum Road, Stateville, NC  28625) room #151 from 9 to 3pm.  (CPP training is required for all workers and will be offered during this training)
Love in a Shoebox
It is Christmas Shoebox time again, so please feel free to take a shoebox, fill it and return it by November 17th to be dropped off at the Collection site.  Inside each shoe box are directions on how to pack your box along with a label for the box. Or you can bring items to help the youth pack their shoeboxes. Shoebox gifts are a way to demonstrate God's love in a tangible way to needy children around the world and to share the Good News of Jesus Christ.
Open Basketball
Mondays 7-9pm there will be open basketball for middle school and up in the FLC.   Come and get some exercise or just cheer the player on!
November Mission Highlight – Cordero de Dios
Cordero de Dios is serving the Winston Salem community while engaging and   encouraging others through a life- changing journey.   Their mission is to nurture a diverse and welcoming community.  They committed to following fearlessly wherever God is leading them and to make disciples of Jesus Christ for the transformation of Winston Salem and the world!  Cornerstone supports Cordero de Dios through prayer, fellowship and monthly support.
New Canaan Society of Davie
All men are invited to come to the Davie County New Canaan Society meeting this Thursday at Captain Galley Restaurant at 7am.  This is a Christian fellowship for men where men share their personal testimony and prayer.   For more information, see Chuck Bradford.