Events & Info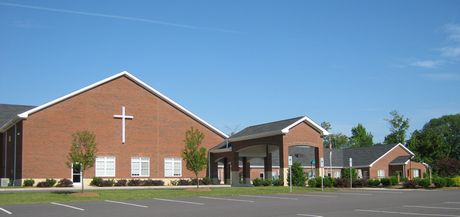 Event Calendar – November 2020
Upcoming Highlights Include:
You Choose
You now have a choice of where you want to worship with us.
In your car – you are able to continue to worship from your car by listening to FM 100.1
In the FLC – you are welcome to come inside and worship as we sit in family groups while social distancing.
In a class room – we have four rooms that have speakers and would allow a family to isolate themselves and still enjoy the service.
So you see, you can choose what type of worship is best for you and your family.  There will be no nursery for the foreseeable future. 
Love in a Shoebox
There are still a few shoeboxes left.  I will be taking them to the drop off point on Tuesday.  You could still fill it and return it on Monday, November 16th to be dropped off at the Collection site.  Inside each shoe box are directions on how to pack your box along with a label for the box. Shoebox gifts are a way to demonstrate God's love in a tangible way to needy children around the world and to share the Good News of Jesus Christ.
 Church Council Meeting
Our annual Church Council meeting will be Sunday, November 15th at 10am.  We will meet at 9am and enjoy a time of fellowship with coffee and donuts (there will be no Sunday School).  Then at 10am we will have a time of singing followed by a time of sharing what we see God doing through this body of Christ.  The Church Council reports will be available NEXT Sunday, Nov. 8th at the Communications Table at the back of the sanctuary.
Multi-Cultural Thanksgiving
Next Sunday, November 22nd we will join with Cordero de Dios and have our Annual Multi-Cultural Thanksgiving worship followed by a Thanksgiving Boxed Lunch. The men will be cooking some turkey and we will provide a complete Thanksgiving meal in a box, including potatoes, green beans, dressing, and dessert. We would also love to bless The Cordero Food Pantry! Please bring non- perishable food items to donate to this ministry.
Thanks be to God for his indescribable Gift! (2 Corinthians 9:15)
Take-a-Turkey
Cornerstone will be providing Thanksgiving meals for ten families for A Storehouse for Jesus.  All the Turkeys are taken. J Please return the items ASAP; but no later than this Sunday, November 15th.
 Thank you, Your Local Mission Team
Mid-Week Bible Study
We are continuing our mid-week Bible Study for adults from 6:30 to 7:30pm via Zoom as well as in person at Cornerstone. Pastor Kevin will lead us through scripture to navigate the craziness of these days.  Join us for this in-depth study and discussion. (Meeting ID: 873 4075 9310, Passcode: 361487) Please note that Zoom now requires a passcode on all meetings.
Open Basketball
Mondays  from 7-9pm there will be open basketball for middle school and up in the FLC.   Come and get some exercise or just cheer the player on!
Pre-Service Prayer 
Join the prayer team in the the FLC from 9:15 to 9:45 each Sunday for a time of prayer.  They are lifting up our services, our pastor, our worship team and our congregation. If you need prayer for you or your family, please feel free to join them or please forward any special prayer request to Betty Krottnaurer.
Young Adults Friendsgiving
Cornerstone Young Adults are having a potluck Friendsgiving THIS Saturday, November 21st at 7pm. Text or call Ashley Melton for more information 336-414-5963.
Make a Difference – If you are doing your holiday shopping on Amazon this holiday season you can generate donations for Cornerstone Christian Church by shopping at smile.amazon.com/ch/51-0518667.
A Storehouse for Jesus  needs for November include: Peanut butter and Jelly, Toothbrushes, Toothpaste. Place your donations in the labeled bin next to the Lost and Found.  Due to covid and an lack of volunteers Storehouse is unable to take clothing or household items at this time.
SUNDAY SCHOOL – Where Faith & Life Connect
Join us for Sunday School at 9am offering the following classes:
For Adult
Theology Class (Room 102) Answering the hard questions from a Biblical perspective.
Get Connected – (Room 108) Looking at life issues from a Biblical perspective.
Men's Bible Study – (Room 113) The "Red" Words – A compilations of the Words of Jesus
Soul Sisters – (Room 120) Women's Support Group
For Youth – Middle School & High School In the Noiz Youth room #122
For Children – Grades K to 5th Resuming their journey through the Bible with the New Testament in room #109
This is an opportunity to get connected and grow in your walk with the Lord.  (No nursery for the foreseeable future.)
Angel Tree Time Again
Cornerstone is sponsoring 30 Little Lambs, Senior Stars and Shepherds through A Storehouse for Jesus again this year.  The sponsorship information is available in the lobby.  All gifts should be returned to the lobby of our church no later than Sunday, December 6th.  Thank you in advance for helping provide something special for those in need in our community.  For questions contact Tammy Naylor at 998-6474 or Naylort@yadtel.net.
Youth Need Snacks
Our Youth are meeting together on Wednesdays at 6:30pm and need healthy snacks. Please sign up online at TakeThemAMeal.com – Last Name – Youth, Password – 0600 for a time you can help with this ministry. Thank you in advance for supporting our youth in this way.
Offering Options
Mail-In –  For your convenience, feel free to mail your offerings to:
Cornerstone Christian Church
Attn: Garnette
1585 NC Hwy 801 N
Mocksville, NC 27028
Drive-In – You will still be able to drive under the carport and drop off your offering.
Carry-In – There will be an offering drop box available between the double doors going into the FLC.