Events & Info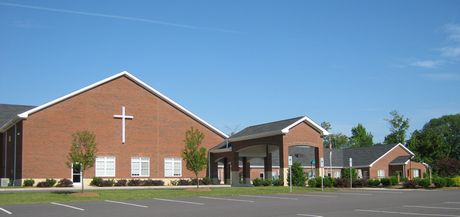 Upcoming Highlights Include:
History in the Making
Drive-in Church every Sunday at 10am.  Don't miss it!  Once in the parking lot, listen on FM-101.5.
Mid-Week Services
Wednesdays, we are learning about "Standing on the ROCK in the storms of life" through a Bible Study for adults from 6:30 to 7:30pm with Pastor Kevin via Zoom.  There is no children's ministry for the time being. Join us and learn how to stand on the Rock with us! (Meeting ID:895 9615 6910)
You Can Help
Next Saturday, June 6th (Note the date change) at 9am the deacons are planning a work day.  We will be spreading mulch on the playground among other things. Please come in your work clothes with gloves, shovels, garden rakes and wheelbarrows if you have them. The more workers we have the faster it will go.
Children's Church Returns
Beginning next Sunday, June 7th, our Children's Church program will resume.  The children will be invited into the FLC after the music portion of worship.  We are looking forward to getting back together again.
A Storehouse for Jesus  needs for May include:  boxed macaroni and cheese, spaghetti and spaghetti sauce, canned pasta, dish detergent.  Other items needed:  Any kitchen, bath, baby items and clothing of all sizes.  Place your donations in the labeled bin next to the Lost and Found.
Graduation is Coming
Are you or someone in your family graduating in the next few months? Please be sure to notify our church office (cornerstone@c3davie.org or 336-998-0600), so that your family at Cornerstone can celebrate this wonderful life event along with you. We will be honoring our graduates on Sunday, June 14th.
Snowbird Youth Summer Camp
The social distancing due to Coronavirus curtailed our Summer Camp fundraising efforts.  However summer camp is still ON and we could use your support.  Prior to having to close the coffee bar we raised $1,263 which is about one fourth of the total amount needed.  Please consider making a donation marked "Youth Summer Camp" prior to May 31, 2020 since our final payment to Snowbird has a June deadline.  Thank YOU for your support of OUR Youth!  If you have any questions please contact Tammy Naylor.
Monthly Mission Moment – Michael & Naomi Woo
 Michael and Naomi Woo have a passion to see Jesus glorified in the most unreached parts of the world. After their marriage in June 2018, they moved into ministry as mobilizers for OMF International. They will be training and discipling a new generation of missionaries who have a heart to plant churches in Southeast Asia. As missionaries who have served overseas and now live in the US, they are uniquely equipped to mobilize and train new workers for the mission field. Michael and Naomi recently moved to Littleton, CO along with their five wonderful children and have assumed the roles of candidate directors.  Cornerstone supports the Woo family through prayer and monthly giving.
Offering Mail-in Option
For your convenience, feel free to mail your offerings to:
Cornerstone Christian Church
Attn: Garnette
1585 NC Hwy 801 N
Mocksville, NC 27028