Events & Info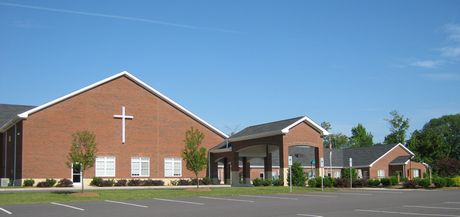 Events Calendar – September 2021
Upcoming Highlights Include:
Mid-Week Bible Study
Join us for Mid-Week Bible Study for adults on Wednesdays from 6:30 to 7:30pm in room 101.  A Zoom option is also available for those who wish to join us from home.  Pastor Kevin will lead us through the book of Acts to discover the work of the Holy Spirt in the Church.  Join us for this in-depth study and discussion. 
Outdoor Worship/ Tailgate Party
Sunday, September 19th will be an Outdoor Worship followed by a True Tailgate Party. Bring your lawn chairs and come prepared with food for you and your family.  We will each fix our own tailgate meal after worship and enjoy fellowship in the parking lot.  If the weather is bad, we will move inside.
Men's Fellowship Breakfast
Sunday October 3rd all men are invited to join us for a Men's Fellowship breakfast of biscuits & coffee at 7:30am in the Children's Church Room #101 which will include a short devotional focused on Godly men. Donations to help with the biscuits are appreciated.  Men are encouraged to bring their sons and other young men to join us.  Come and get to know your brothers in Christ and be blessed! 
Attention Young Adults
Join us Tuesday, Sept. 21st for a game night with lots of fun fellowship at 7 pm.  Don't forget to invite a friend. Contact Ashley Melton for more details: 336-414-5963.
Candy, Candy, Candy
We are collecting candy for our annual Fun-filled Family Fall Festival Saturday, October 30th.  Please pick up a bag or two and leave them in the basket in the lobby.
Good News Club
In October, Cornerstone will again sponsor the Good News Club at Mocksville Elementary.  Please contact Karen Harrison (336-998-9881) if you would like to help reach children in our community for Christ.  Training has begun.
Community Outreach
Saturday, September 18th, you are invited to join Jessica Gwyn, her family and Cornerstone youth in a Community Outreach from 1 to 3pm in Davie County.  We will serve a meal, share the Gospel, and pass out school supplies.   Everyone and all ages are welcome.  We will meet at Cornerstone at 12:15 to pray and discuss the plan.  Bring your family and join us in this outreach opportunity.
College Bound
If you or your child is college bound, please call or email the church office with a physical address.  We would like to send out cards and/ or boxes throughout the school year and love on our college students.  We would also like to include our military men and women. We will not use last year's address unless you verify it with us. Call Mary at 336-998-0600 or email cornerstone@c3davie.org.
Hebrews Bible Study
We will continue our study of the book of Hebrews Thursday, September 23rd (note the week change to the 4th week) at 12:30pm on Zoom or you can join at Cornerstone in the Children's Church room.   Come and dig into the Word of God with us. 
September Mission Highlight – Good News Club
The Good News Club (GNC) is part of the Child Evangelism Fellowship ministry. Cornerstone has sponsored through participation, prayer and monthly support the GNC at Mocksville Elementary School for the past 6 years, and we are now in our 7th year of presenting the Gospel to children from kindergarten through 5th grade. The Gospel is presented each week to the students through Bible lessons, Scripture memory verses, missionary stories, music, review games, prayer, and quiet time teachings.   If you would like to be involved in this outreach to our community, contact Karen Harrison, our Team Leader at 336-817-7461.
Youth News – Noiz – Wednesdays – 6:30pm
A Storehouse for Jesus needs includes Cereal, Saltine Crackers, Canned Meat, Canned Fruit, Canned Soup.  
SUNDAY SCHOOL – Where Faith & Life Connect
Join us for Sunday School at 9am offering the following classes:
For Adult
Theology Class (Room 102) Answering the hard questions from a Biblical perspective.
Get Connected – (Room 108) Looking at life issues from a Biblical perspective.
Men's Bible Study – (Room 113) The "Red" Words – A compilations of the Words of Jesus
Soul Sisters – (Room 120) Women's Support Group
For Youth – Middle School & High School In the Noiz Youth room #122
For Children – Grades K to 5th Resuming their journey through the Bible with the New Testament in room #109
Nursery available during Worship only (at 10am)
This is an opportunity to get connected and grow in your walk with the Lord. 
Offering Options
Mail-In –  For your convenience, feel free to mail your offerings to:
Cornerstone Christian Church
Attn: Garnette
1585 NC Hwy 801 N
Mocksville, NC 27028
Drive-In – You will still be able to drive under the carport and drop off your offering.
Carry-In – There will be an offering drop box available between the double doors going into the FLC.