Events & Info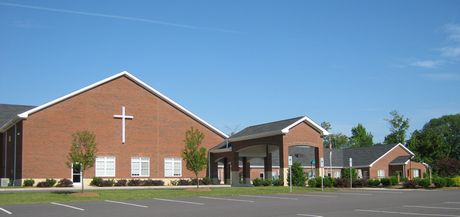 Upcoming Highlights Include:
Athens VBS
Join us each night this week from 6-8pm Monday through Friday for a family vacation in ancient Athens Greece.  You and your family will step back in time at Athens, exploring some of the adventures the Apostle Paul faced. You will participate in a memorable Bible-times Marketplace, sing catchy songs, play teamwork-building games, dig into Bible-times snacks, visit Paul, and collect Bible Memory Makers to remind you of God's Word. Plus, everyone learns to look for evidence of God all around them through something called God Sightings. Each day concludes at Celebration—a time of upbeat worship that gets everyone involved.  Don't miss the family fun opportunity!
Coffee Hour and Lunch
Our study of Romans continues Thursday, June 27th at 10am. Come enjoy good coffee as we fellowship around the Word of God, followed by lunch.  Plan to stay and fellowship with us around the noon day meal
Bible Study
We are studying the book of Revelation on Mondays at 6:30pm.  No Bible Study this week due to VBS.  We will resume Monday, June 24th.
Attention All VBS Volunteers
The week we have been preparing for has finally arrived.  Thank you for all the time and energy you have put into preparing for this week.  We will meet at the church at 5:15 each evening in the children church room for dinner, prayer and last minute instructions.  Then be ready to begin at 6pm. 
Family Promise at Cornerstone
Cornerstone is the host church for Family Promise in 3 weeks… Sunday, June 23 – Sunday June 30th … right on the heels of VBS!  We are hoping you will seriously consider blocking your calendars now for this amazing ministry opportunity.  We need evening hosts, meal providers, and hosts to spend the night with our families at church.  This is a great opportunity for families to minister together!  You can sign up online (https://signup.com/go/sRuRjBt) or speak to Janet Perrell directly.
New Canaan Society of Davie
All men are invited to come to the Davie County New Canaan Society meeting this Thursday at Captain Galley Restaurant at 7am.  This is a Christian fellowship for men where men share their personal testimony and prayer.   For more information, see Chuck Bradford.
Monthly Mission Moment – NCS VineBranch
NCS VineBranch is the missional outreach of the Winston Salem chapter of the New Canaan Society. Through travel to the Middle East they encourage and support those serving in hard places, those often in need of resources and constantly in need of prayer.  In Europe, VineBranch connects and encourages marketplace leaders and believers to share their faith.  Through shared experiences they connect and become students of Jesus together in order to model commitment, intentionality and service to each other and to the world in which we live.  Cornerstone support VineBranch through prayer, mission trips and monthly support.